Argentine Liga Profesional de Fútbol Schedule
---
Argentine Liga Profesional de Fútbol News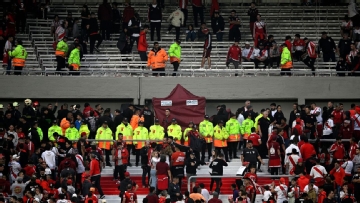 Fan dies after falling from stand during River Plate game at Monumental stadium
A fan died after falling from a stand at the Argentinian club River Plate's Mas Monumental stadium during Saturday's game against Defensa y Justicia.
River Plate fans shocked by big bulge in giant statue of club legend Marcelo Gallardo
River Plate fans were shocked to see the 26-foot-tall statue of club legend Marcelo Gallardo be even more exaggerated in one particular area.
Argentina's World Cup glory built in Europe as South American leagues lose importance
It is impossible to avoid an alarming conclusion -- despite Argentina's World Cup win, South American leagues have become increasingly peripheral.
Racing Club vs. Boca Juniors saw 10 red cards but it's nowhere near the world record
Argentina's Champions Trophy final on Sunday saw 10 players sent off, but that's not even a third of the world record for red cards in one game.
Carlos Tevez resigns as coach of Argentina's Rosario Central
Carlos Tevez has left his role as manager of Argentine club Rosario Central five months after taking the job.
Boca Juniors crowned champions on topsy-turvy final day of Argentine Liga
In a bizarre twist of fate, the keeper for Boca Juniors' eternal rivals, River Plate, ensured that the Argentine trophy went back to La Bombonera.
Boca to cheer for River? Racing want Independiente to win? Argentina's title race has turned wild
The last matchday in Argentina's league could make for some curious alliances among ancient rivals.
River Plate coach Gallardo to leave in December after 8 years
Marcelo Gallardo will leave River Plate when his contract ends in December after more than eight years at the club.
Boca Juniors, Gimnasia game abandoned as tear gas hits field, leaving one person dead
At least one person died after clashes between fans and police forced the Argentine match between Gimnasia and Boca Juniors to be abandoned.
Argentina suspends football matches after vice president assassination attempt
All football matches in Argentina were suspended on Friday after an assassination attempt on the country's vice president.
Carlos Tevez begins head coaching career with Argentine side Rosario Central
Argentine club Rosario Central have confirmed former Argentina, Manchester United and Manchester City forward Carlos Tevez as their new coach.
Meet the other Messi, who plays for Lionel's boyhood club Newell's Old Boys and even wears No. 10 jersey
Lionel Messi may have left Newell's Old Boys for Barcelona in 2000 when he was just 12 years old, but the club now has another Messi on its books.
---