Italian Serie A Schedule
---
Italian Serie A News
Roma's Mourinho on his 'worst-ever' start: 'No time to cry'
Roma coach Jose Mourinho said he is experiencing "the worst start to a season as manager" with his team languishing in 16th place in Serie A after managing just one win in their opening six league games.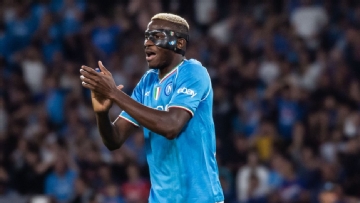 How TikTok has ruined Napoli, Victor Osimhen relationship
Two incidents on Napoli's social media channels have hurt Napoli's relationship with their star, Victor Osimhen. Now, his future at the club -- his contract expires in 2025 -- is uncertain. How did we get here, and is there a way back?
Napoli: 'Never intended to offend' Osimhen with TikTok video
Napoli said they "never intended to offend" Victor Osimhen after the club posted a social media post that appeared to mock their star striker for missing a penalty.
Laurens: Osimhen contract extension now 'very tricky' for Napoli
Julien Laurens explains why Napoli's social media posts mocking Victor Osimhen couldn't have come at a worse time.
Inter Milan's perfect start ended by Sassuolo
Inter Milan's perfect start to the Serie A season ended as Sassuolo mounted a second-half comeback to secure a shock 2-1 victory on Wednesday.
Milan fight back to beat promoted Cagliari 3-1
AC Milan fought back after falling behind at promoted Cagliari to secure a 3-1 Serie A victory on Wednesday.
AC Milan take 'first step' in new stadium project
AC Milan are starting a process to build a new stadium on the outskirts of Milan, the Italian soccer club said on Wednesday, after efforts to replace their historic San Siro arena led nowhere.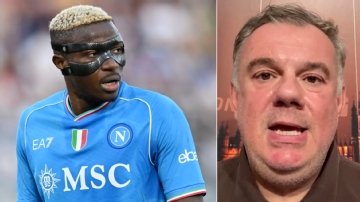 Marcotti: Napoli's Osimhen posts an 'act of self-destruction'
Gab Marcotti reacts to Napoli's now-deleted social media posts that made fun of star striker Victor Osimhen.
Osimhen's agent mulls legal action against Napoli for mocking video
Napoli striker Victor Osimhen's has deleted almost all pictures of himself in the team's shirt from his social media accounts after the club posted a video online mocking him.
Juventus move up to second after Milik secures win over Lecce
Arkadiusz Milik's 57th-minute goal secured Juventus a 1-0 home victory over Lecce on Tuesday, moving them up to second in the Serie A standings.
European club kit ranking: Who has 2023-24's best threads?
We've scrutinised every jersey unveiled by the biggest clubs in Europe's top leagues -- a European Super League of Kits, if you will. Who is No. 1?
Lukaku strike not enough as Roma held to 1-1 draw at Torino
A late header by Duvan Zapata gave Torino a 1-1 draw at home to AS Roma on Sunday, quashing the Roman side's hopes of improving on their underwhelming start to the Serie A season.
---