Wrexham announce first-ever stadium sponsor, renamed SToK Racecourse
Published:
Wrexham's Racecourse Ground will be renamed the SToK Racecourse for next season in a deal that sees the world's oldest international stadium have a title sponsor for the first time.
The stadium, which has been home to Wrexham since 1864 and hosted Wales' first home international match in 1877, will be sponsored by SToK Cold Brew Coffee next season as the club rejoins the English Football League after a 15-year absence. A new 5,000-seat stand is also being built to raise the capacity at the stadium to 15,000.
"We're incredibly excited and a little over-caffeinated." Hollywood stars and club co-chairmen Rob McElhenney and Ryan Reynolds said in a statement.
Wrexham has gained a global following since it was bought by Reynolds and fellow actor McElhenney for $2.5 million in 2021.
Lively has attended games alongside her husband as Wrexham won the National League with a record total of 111 points, with Reynolds and McElhenney rewarding the team with a trip to Las Vegas.
The team is also touring America this summer, when it will play LA Galaxy II and Premier League teams Manchester United and Chelsea.
Information from the Associated Press contributed to this report.
Related News
Messi: Move to Miami kept 'future' in my hands
Lionel Messi said he did not want to relive his traumatic departure from Barcelona two years ago after revealing Wednesday that he will join MLS side Inter Miami CF over the Catalan club.
Sources: Busquets in talks to join Messi in Miami
Sergio Busquets has held talks with Inter Miami about the possibility of following Lionel Messi to the Major League Soccer franchise, sources have confirmed to ESPN.
West Ham beat Fiorentina in dramatic UECL finale
Jarrod Bowen scored in the 90th minute as West Ham United secured a last-gasp 2-1 victory over Fiorentina in the Europa Conference League final on Wednesday to clinch a first major European trophy in over half a century.
Moyes: West Ham trophy best moment of career
PRAGUE -- West Ham manager David Moyes said winning the Europa Conference League on Wednesday stands as the best moment in his career.
Messi's Miami move sends ticket prices up 1000%
Lionel Messi's announcement that he plans to join Inter Miami sent tickets on the secondary market into the stratosphere on Wednesday as fans clamored for a chance to see the Argentine great play on U.S. soil.
WWC players getting $30K each, winners $270K
Every player at the Women's World Cup will be paid at least $30,000 by FIFA, and the 23 players in the title-winning team will each get $270,000.
Messi to join MLS' Inter Miami after PSG exit
Lionel Messi will make a stunning move to MLS side Inter Miami after his departure from Paris Saint-Germain, the World Cup winner with Argentina announced Wednesday.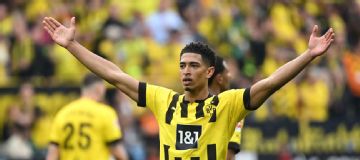 Madrid sign Bellingham from Dortmund for €103m
Real Madrid have reached an agreement with Borussia Dortmund to sign Jude Bellingham in a deal worth €137 million, the Bundesliga club announced Wednesday.
Sources: Qatari sheikh submits final Man Utd bid
Sheikh Jassim made a fifth bid to buy Manchester United and told the Glazer family he wants an answer by Friday, sources told ESPN.