Javier Tebas fears LaLiga's image hit by racism to Vinicius
Published:
LaLiga president Javier Tebas said on Thursday that he is concerned about the reputational damage suffered by the league over racist abuse aimed at Vinicius, and said he would support points deductions as a punishment to deal with the problem.
Police made three arrests this week over the incident at Mestalla, while the Spanish football federation (RFEF)'s Competition Committee hit Valencia with a five-match closure of the stand where the abuse occurred, which the club have said they will appeal.
"Of course I'm worried [about LaLiga's image]," Tebas said. "If I wasn't, I'd be crazy. LaLiga has worked to fight against racist insults. But obviously it worries me... It's a blow, but we'll work to recover the reputation we may have lost. We think it doesn't reflect the reality."
LaLiga has said it would like to be granted further powers to deal with the issue, arguing that it is limited to filing complaints with criminal prosecutors and the RFEF.
"The punishment of taking away points only exists currently in the case of fielding an ineligible player," Tebas said, when asked about alternative sanctions. "Would it be good? I think so. Although with the current regime, and the powers we're asking for, I think that would be enough."
Tebas said that his Twitter discussion with Vinicius had given the wrong impression.
LaLiga has filed 10 criminal complaints over racist abuse aimed at Vinicius over the last two seasons, although on several occasions, prosecutors decided not to pursue a case.
"I didn't want to criticise Vinicius," he said. "Maybe that was my mistake, I didn't mean to criticise him but rather to give him the information that we're doing a lot of things. It was frustration. I think Vinicius is frustrated too. It was a mistake."
Tebas said that he had not yet spoken to Vinicius directly to apologise, and that he would support the player if he chose to walk off the field in response to racist abuse.
The Brazil international missed Madrid's league game with Rayo Vallecano on Wednesday with a knee problem, although he was present at the Bernabeu, with teammates and fans showing their support with applause before the game and in the 20th minute, reflecting his shirt number.
"I think it's best to let this calm down," Tebas said. "But when it's convenient, when it's the right time, I'll talk to him, and his representatives. I want Vinicius to stay in Spanish football and I want to show him that with more powers, we can deal with racism."
"If he feels affected, of course [I would support leaving the field]. He'd have the support of the league and my personal support... These have been some of my worst days as president and as a person. I'm not a racist."
Related News
Messi: Move to Miami kept 'future' in my hands
Lionel Messi said he did not want to relive his traumatic departure from Barcelona two years ago after revealing Wednesday that he will join MLS side Inter Miami CF over the Catalan club.
Sources: Busquets in talks to join Messi in Miami
Sergio Busquets has held talks with Inter Miami about the possibility of following Lionel Messi to the Major League Soccer franchise, sources have confirmed to ESPN.
West Ham beat Fiorentina in dramatic UECL finale
Jarrod Bowen scored in the 90th minute as West Ham United secured a last-gasp 2-1 victory over Fiorentina in the Europa Conference League final on Wednesday to clinch a first major European trophy in over half a century.
Moyes: West Ham trophy best moment of career
PRAGUE -- West Ham manager David Moyes said winning the Europa Conference League on Wednesday stands as the best moment in his career.
Messi's Miami move sends ticket prices up 1000%
Lionel Messi's announcement that he plans to join Inter Miami sent tickets on the secondary market into the stratosphere on Wednesday as fans clamored for a chance to see the Argentine great play on U.S. soil.
WWC players getting $30K each, winners $270K
Every player at the Women's World Cup will be paid at least $30,000 by FIFA, and the 23 players in the title-winning team will each get $270,000.
Messi to join MLS' Inter Miami after PSG exit
Lionel Messi will make a stunning move to MLS side Inter Miami after his departure from Paris Saint-Germain, the World Cup winner with Argentina announced Wednesday.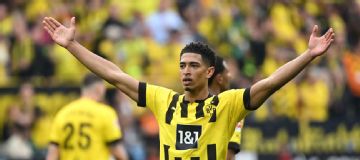 Madrid sign Bellingham from Dortmund for €103m
Real Madrid have reached an agreement with Borussia Dortmund to sign Jude Bellingham in a deal worth €137 million, the Bundesliga club announced Wednesday.
Sources: Qatari sheikh submits final Man Utd bid
Sheikh Jassim made a fifth bid to buy Manchester United and told the Glazer family he wants an answer by Friday, sources told ESPN.