Mourinho: Tottenham only former club I don't feel deeply for
Published:
AS Roma boss Jose Mourinho has opened up on his disappointing spell in charge of Tottenham Hotspur, saying they are the only one of his former clubs that he doesn't still have a "deep feeling for."
The 60-year-old, who has managed 10 teams in a career that began in 2000, is on the verge of leading Roma to back-to-back European titles in next week's Europa League final against Sevilla.
Mourinho underlined the importance of enjoying the final amid reports that he could leave the Italian side, adding that he "will forever be tied to Roma," but acknowledged the feelings are not the same when it comes to his former club Tottenham.
The former FC Porto, Inter Milan, Chelsea, Real Madrid and Manchester United boss, who led Roma to their first European title by winning the Conference League last season, said he feels no connection with Spurs.
"I hope the Tottenham fans don't get me wrong but the only club in my career where I don't have still a deep feeling for is Tottenham," Mourinho said.
"Probably because the stadium was empty, COVID time. Probably because Mr Levy [Spurs chairman Daniel Levy] didn't let me win a final and win a trophy.
Mourinho's comments come after Feyenoord manager Arne Slot ended speculation over a possible move to the Premier League club, saying he was in discussions with the Dutch champions over a contract extension.
Also on Thursday, Mourinho said that forward Paulo Dybala could miss Roma's clash with six-time champions Sevilla next Wednesday in Budapest.
The 29-year-old Argentine, who has scored 16 goals and has eight assists across all competitions this season, is yet to recover full fitness after picking up an ankle injury at the end of last month.
"I don't think he can play. Honestly, I hope he can make it for the bench. It's the last game of the season even if after that we have Spezia," Mourinho told reporters.
"But for Paulo, it would be the last game. I'd be happy if Paulo could go on the bench and play 15 or 20 minutes. Dybala is still with the doctors."
Roma will travel to 11th-placed Fiorentina on Saturday before taking on the Spanish side in the Europa League final.
The Portuguese coach said midfielder Lorenzo Pellegrini would return for the final after missing two games with an injury, but he is out for the Fiorentina clash.
Information from Reuters and the Associated Press was used in this report.
Related News
Messi: Move to Miami kept 'future' in my hands
Lionel Messi said he did not want to relive his traumatic departure from Barcelona two years ago after revealing Wednesday that he will join MLS side Inter Miami CF over the Catalan club.
Sources: Busquets in talks to join Messi in Miami
Sergio Busquets has held talks with Inter Miami about the possibility of following Lionel Messi to the Major League Soccer franchise, sources have confirmed to ESPN.
West Ham beat Fiorentina in dramatic UECL finale
Jarrod Bowen scored in the 90th minute as West Ham United secured a last-gasp 2-1 victory over Fiorentina in the Europa Conference League final on Wednesday to clinch a first major European trophy in over half a century.
Moyes: West Ham trophy best moment of career
PRAGUE -- West Ham manager David Moyes said winning the Europa Conference League on Wednesday stands as the best moment in his career.
Messi's Miami move sends ticket prices up 1000%
Lionel Messi's announcement that he plans to join Inter Miami sent tickets on the secondary market into the stratosphere on Wednesday as fans clamored for a chance to see the Argentine great play on U.S. soil.
WWC players getting $30K each, winners $270K
Every player at the Women's World Cup will be paid at least $30,000 by FIFA, and the 23 players in the title-winning team will each get $270,000.
Messi to join MLS' Inter Miami after PSG exit
Lionel Messi will make a stunning move to MLS side Inter Miami after his departure from Paris Saint-Germain, the World Cup winner with Argentina announced Wednesday.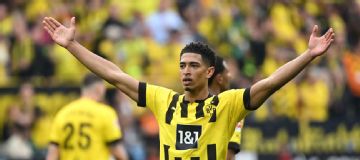 Madrid sign Bellingham from Dortmund for €103m
Real Madrid have reached an agreement with Borussia Dortmund to sign Jude Bellingham in a deal worth €137 million, the Bundesliga club announced Wednesday.
Sources: Qatari sheikh submits final Man Utd bid
Sheikh Jassim made a fifth bid to buy Manchester United and told the Glazer family he wants an answer by Friday, sources told ESPN.