Man United's Antony Luke Shaw injured ahead of FA Cup final
Published:
Manchester United are sweating on the fitness of Antony and Luke Shaw ahead of the FA Cup final after both were forced off with injuries against Chelsea.
Antony was stretchered off with an ankle injury in the first half of the 4-1 Premier League win at Old Trafford while Shaw was replaced at half-time.
Both players would have been in line to start for Erik ten Hag against Manchester City in the FA Cup final, but are now serious doubts with the Wembley showpiece just nine days away on June 3.
The Brazil international, who held his face as he was carried off, looked in distress as he left the field in the 29th minute, and Ten Hag consoled him with a pat on the stomach before he was taken to the locker rooms.
It was not immediately clear what part of the body Antony hurt, but he was in pain after a challenge from Chelsea defender Trevoh Chalobah. Antony was replaced by Marcus Rashford, who was just returning to the team from an injury of his own.
Ten Hag said afterwards: "Everyone has seen he [Antony] came off. I can tell you that it's serious, but we have to wait a minimum of 24 hours and then we know probably more about the status of his injury."
Victory over Chelsea secured a top-four finish for United ahead of the final game of the season against Fulham at Old Trafford on Sunday. It means Ten Hag's team will return to the Champions League next season, but the Dutchman insists the club should be setting their sights higher.
"I think in this league, that's a good base to be in the top four, but we want to compete for the title," Ten Hag said. "But it has to be realistic and you can first say when you have your squad in the end of the transfer window and also the winter transfer window what you can do. The squad is there and you can make a statement about if it's realistic or not.
"Now we are far away, so we have a lot of work to do. We've made progress with this team, with this squad but we need better players if we want to compete for the highest."
Related News
Messi: Move to Miami kept 'future' in my hands
Lionel Messi said he did not want to relive his traumatic departure from Barcelona two years ago after revealing Wednesday that he will join MLS side Inter Miami CF over the Catalan club.
Sources: Busquets in talks to join Messi in Miami
Sergio Busquets has held talks with Inter Miami about the possibility of following Lionel Messi to the Major League Soccer franchise, sources have confirmed to ESPN.
West Ham beat Fiorentina in dramatic UECL finale
Jarrod Bowen scored in the 90th minute as West Ham United secured a last-gasp 2-1 victory over Fiorentina in the Europa Conference League final on Wednesday to clinch a first major European trophy in over half a century.
Moyes: West Ham trophy best moment of career
West Ham manager David Moyes said winning the Europa Conference League on Wednesday stands as the best moment in his career.
Messi's Miami move sends ticket prices up 1000%
Lionel Messi's announcement that he plans to join Inter Miami sent tickets on the secondary market into the stratosphere on Wednesday as fans clamored for a chance to see the Argentine great play on U.S. soil.
WWC players getting $30K each, winners $270K
Every player at the Women's World Cup will be paid at least $30,000 by FIFA, and the 23 players in the title-winning team will each get $270,000.
Messi to join MLS' Inter Miami after PSG exit
Lionel Messi will make a stunning move to MLS side Inter Miami after his departure from Paris Saint-Germain, the World Cup winner with Argentina announced Wednesday.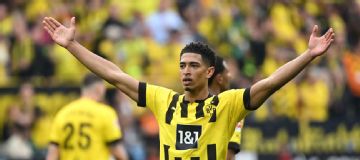 Madrid sign Bellingham from Dortmund for €103m
Real Madrid have reached an agreement with Borussia Dortmund to sign Jude Bellingham in a deal worth €137 million, the Bundesliga club announced Wednesday.
Sources: Qatari sheikh submits final Man Utd bid
Sheikh Jassim made a fifth bid to buy Manchester United and told the Glazer family he wants an answer by Friday, sources told ESPN.