Mohamed Salah blasts Liverpool Champions League failure
Published:
Liverpool forward Mohamed Salah said there was "no excuse" for his team's failure to qualify for next season's Champions League after Manchester United clinched the remaining top-four spot in the Premier League on Thursday.
Man United's 4-1 win over Chelsea means that with one game remaining Liverpool are guaranteed to finish fifth and go into the Europa League. It is the first time that Liverpool have failed to qualify for Europe's top club competition since Salah joined the team in 2017.
"I'm totally devastated," Salah tweeted. "There's absolutely no excuse for this.
"We had everything we needed to make it to next year's Champions League and we failed. We are Liverpool and qualifying to the competition is the bare minimum. I am sorry but it's too soon for an uplifting or optimistic post. We let you and ourselves down."
Liverpool had won seven straight games to put themselves back in contention for a top-four spot but a 1-1 home draw with Aston Villa on Saturday effectively ended their hopes before Newcastle and Man United confirmed their fate in the subsequent days.
Liverpool manager Jurgen Klopp has led Liverpool to three Champions League finals, winning one, in the last five seasons but admitted Saturday that "we were too long not good enough ourselves."
He added that the team now needs to embrace competing in the Europa League.
"We will make it [the Europa League] our competition," Klopp told BBC Sport. "I am not that spoilt. That we are already qualified for the Europa League is incredible with all these teams around us. That's really difficult and we did it, that is good.
"For so long we couldn't even hear the sound of the Champions League, that's how far away we were. The Europa League is absolutely fine. Let's see what we can do."
It is set to be a big summer for Liverpool, with Roberto Firmino, Naby Keita, James Milner and Alex Oxlade-Chamberlain already confirmed to be leaving Anfield when their contracts expire at the end of the season.
Related News
Messi: Move to Miami kept 'future' in my hands
Lionel Messi said he did not want to relive his traumatic departure from Barcelona two years ago after revealing Wednesday that he will join MLS side Inter Miami CF over the Catalan club.
Sources: Busquets in talks to join Messi in Miami
Sergio Busquets has held talks with Inter Miami about the possibility of following Lionel Messi to the Major League Soccer franchise, sources have confirmed to ESPN.
West Ham beat Fiorentina in dramatic UECL finale
Jarrod Bowen scored in the 90th minute as West Ham United secured a last-gasp 2-1 victory over Fiorentina in the Europa Conference League final on Wednesday to clinch a first major European trophy in over half a century.
Moyes: West Ham trophy best moment of career
PRAGUE -- West Ham manager David Moyes said winning the Europa Conference League on Wednesday stands as the best moment in his career.
Messi's Miami move sends ticket prices up 1000%
Lionel Messi's announcement that he plans to join Inter Miami sent tickets on the secondary market into the stratosphere on Wednesday as fans clamored for a chance to see the Argentine great play on U.S. soil.
WWC players getting $30K each, winners $270K
Every player at the Women's World Cup will be paid at least $30,000 by FIFA, and the 23 players in the title-winning team will each get $270,000.
Messi to join MLS' Inter Miami after PSG exit
Lionel Messi will make a stunning move to MLS side Inter Miami after his departure from Paris Saint-Germain, the World Cup winner with Argentina announced Wednesday.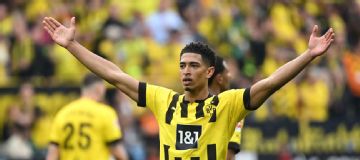 Madrid sign Bellingham from Dortmund for €103m
Real Madrid have reached an agreement with Borussia Dortmund to sign Jude Bellingham in a deal worth €137 million, the Bundesliga club announced Wednesday.
Sources: Qatari sheikh submits final Man Utd bid
Sheikh Jassim made a fifth bid to buy Manchester United and told the Glazer family he wants an answer by Friday, sources told ESPN.